Emo/Dam: CH FI Mintsuliinin Darianna
Isä/Sire: Sigurd Noche Blanca -E

Pentujen sukutaulu / Pedigree of the litter

DOB 2.5.2019

Pentuja vain traditionaaliseen kasvatukseen. En myy pentuja Neva Masqurade-kasvatukseen, enkä kasvatukseen kissaloihin, joissa on nevoja.
Kittens only for traditional breeding. I don't sell kittens for Neva Masqurade- breeding or to catteries which have nevas.



Yaffa tyttö punatiikeri SIB d 23-vapaa
Yaffa 4,5 weeks 3.6.2019
Yaffa 8,5 viikkoa 29.6.2019
Yaffa 6,5 weeks 15.6.2019

Yaffa 3,5 kk 21.8.2019
Yaffa 3,5 kk 21.8.2019 -video



Yoseba tyttö punatiikeri SIB d24 -

varattu Mirella N.



Yoseba 4,5 weeks 3.6.2019
Yoseba 15.6.2019
Yoseba 8,5 viikkoa 29.6.2019

Yakira tyttö kilpikonna cl tabby bicolour SIB f 03 22 -kasvatus/näyttely

-varattu Amurin


Yakira girl 4,5 weeks
Yakira 8,5 viikkoa
Yakira 6,5 weeks 15.6.2019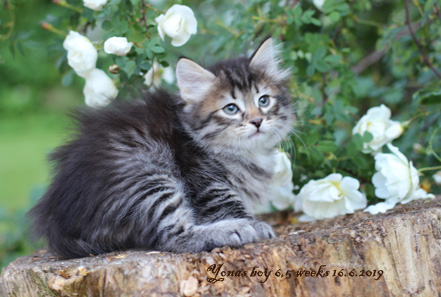 Yonas poika ruskeatiikeri SIB n 23