Emo/Dam: Navara Sibaris*RU
Isä/Sire: FI* Catillus Jaska
DOB: 9.8.2018
The Pedigree of the litter
-Luovutus 1. marraskuuta alkaen / from 1. November
Pentuja vain traditionaaliseen kasvatukseen. En myy pentuja Neva Masqurade-kasvatukseen, enkä kissaloihin, joissa on nevoja.
Kittens only for traditional breeding. I don't sell kittens for Neva Masqurade- breeding or to catteries which have nevas.




Serah girl SIB n 09 24 - ruskeatäplikäs valkoinen
-varattu / reserved
Serah 2,5 weeks 28.8.2018
Serah girl 5,5 weeks 16.9.2018
Serah 6 weeks 20.9.2018
Serah 9 weeks 11.10.2018
Serah 12 weeks 4.11.2018




Samuel boy SIB n 24 -ruskeatäplikäs

-varattu/ reserved
Samuel boy 5,5 weeks 16.9.2018
Samuel 6 weeks 20.9.2018 Samuel 9 weks 11.10.2018



Simon boy SIB n 24 -ruskeatäplikäs - myyty/sold

Simon boy 5,5 weeks 16.9.2018
Simon 6 weeks 20.9.2018
Simon 9 weeks 11.10.2018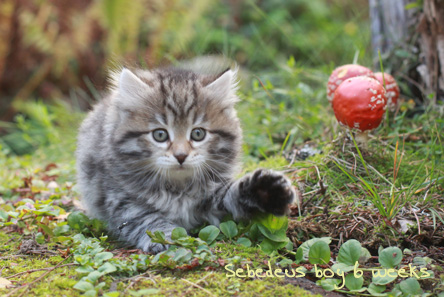 Sebedeus boy SIB n 24 -ruskeatäplikäs
-varattu / reserved
Sebedeus 5,5 weks 16.9.2018
Sebedeus 6 weeks 20.9.2018 Sebedeus 9 weeks 11.10.2018




Simeon boy SIB n 24 -ruskeatäplikäs
-varattu /reserved
Simeon boy 5,5 weeks 16.9.2018
Simeon 6 weeks 20.9.2018
Simeon 9 weeks 11.10.2018