Emo/Dam: Navara Sibaris*RU
Isä/Sire: GIC Oscar Sibknyazhestvo
DOB: 26.12.2017
The Pedigree of the kittens
-Luovutus 20. maaliskuuta jälkeen
Pentuja vain traditionaaliseen kasvatukseen. En myy pentuja Neva Masqurade-kasvatukseen, enkä kissaloihin, joissa on nevoja.
Kittens only for traditional breeding. I don't sell kittens for Neva Masqurade- breeding or to catteries which have nevas.




Noomi girl SIB n(y) 11 -Show breeding varattu / reserved
Noomi girl 5,5 weeks album

Noomi 8 weeks 20.2.2018




Neariah girl SIB n(y) 11 -varattu / reserved

Neariah 8 weeks 20.2.2018




Naftali boy SIB n 24 -kastroitu uros -vapaa lemmikki/show
Naftali boy 5,5 weeks album

Naftali 8 weeks 20.2.2018

Naftali 10 kk 31.10.2018
N 3 pennut 11 viikkoa 15.3.2018 -kaikki pennut samassa albumissa
N3 kittens 11 weeks all kittens in the same album
Noah boy SIB n 24 -varattu / reserved Jessica S.
Noah boy 5,5 weeks album
Noah 8 weeks 19.2.2018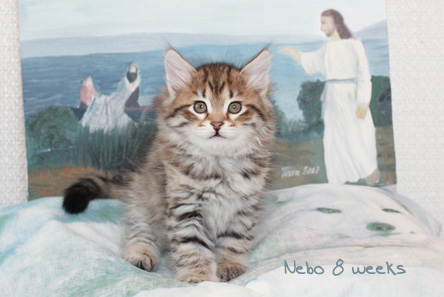 Nebo boy SIB n(y) 24 -Varattu / reserved
Nebo boy 5,5 weeks album

Nebo 8 weeks 20.2.2018




Nikolaos boy SIB n (y) 24 - varattu / reserved Kati T.
Nikolaos boy 5,5 weeks album

Nikolaos 8 weeks 20.2.2018

Nehemiah boy SIB n (y) 11/24 -varattu /reserved
Nehemiah boy 5,5 weeks album
Nehemiah
8 weeks 20.2.2018