Emo/Dam: CH FI Mintsuliinin Darianna
Isä/Sire:
IC FI* Raitamäen Benjamin

Pedigree of the litter
DOB 25.5.2021 Luovutus 31.elokuuta alkaten.

Pentuja vain traditionaaliseen kasvatukseen. En myy pentuja Neva Masqurade-kasvatukseen, enkä kasvatukseen kissaloihin, joissa on nevoja.
Kittens only for traditional breeding. I don't sell kittens for Neva Masqurade- breeding or to catteries which have nevas.


Keanna tyttö/ girl SIB n 24 ruskeatäplikäs-alustavasti varattu Amurin/ reserved Amurin
Keanna 1 weeks 2 days 3.6.2021
Keanna 2 weeks 9.6.2021
Keanna
3 weeks and 2 days 17.6.2021
Keanna 6 weeks 7.7.2021
Keanna 10 weeks 4.8.2021
Kaniel boy SIB n 24 ruskeätäplikäs /Brown spotted -.myyty sold Anna J.
Kaniel 1 week 2 days 3.6.2021
Kaniel 2 weeks 2 weeks 9.6.2021
Kaniel

3 weeks and 2 days 17.6.2021


Kaniel 6 weeks 7.7.2021
Kaniel 10 weeks 4.8.2021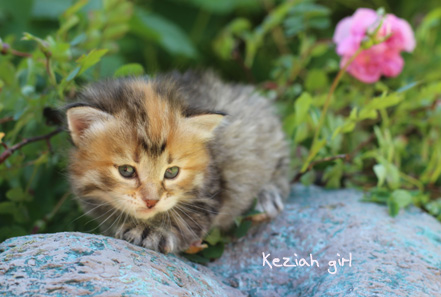 Keziah girl /tyttö kilpikonna täplikäs SIB f 24
-myyty sold Inka H.
Keziah 1 week 2 days 3.6.2021
Keziah girl 13 days 7.6.2021
Keziah 2 weeks 9.6.2021
Keziah
3 weeks and 2 days 17.6.2021
Keziah 6 weeks 7.7.2021
Keziah 10 weeks 4.8.2021

Koresh poika/ boy ruskea classic tabby SIB n 22
varattu Amurin / reserved Amurin
Koresh 1 week 2 days 3.6.2021
Koresh 2 weeks 9.6.2021
Koresh 3 weeks and 2 days 17.6.2021
Koresh 6 weeks 7.7.2021
Koresh 10 weeks 4.8.2021



Kadmiel II poika / boy punainen classic tabby SIB d 22
-myyty / sold Mikko M.
Kadmiel II 1 week 2 days 3.6.2021
Kadmiel II 2 weeks 9.6.2021
Kadmiel II 3 weeks and 2 days 17.6.2021
Kadmiel 6 weeks 7.7.2021
Kadmiel II 10 weeks 4.8.2021